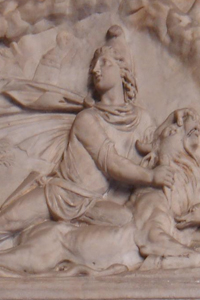 Gaius Pedius has always hated his job...
As a mapmaker and surveyor (second class) attached to the Roman army, his days are usually spent settling boundary distributes between quarrelling neighbors or finding the least objectionable build-site for a legion's new latrine. But now, things have become more hazardous.

The emperor's second son, Geta Caesar, has ordered him to investigate the suspicious death of an important soldier on the British frontier and a cryptic map he left behind. Traveling along the monumental Hadrian's Wall, from one side of the province to the other, Pedius uncovers evidence of a second death, and a third, and a fourth... all seemingly connected to a peculiar new religious cult in the area.

To find the killers, he gets initiated into the cult and submits to their hidden rituals. However, deceiving a strange eastern god is a risky strategy. Pedius has his own secret. A blasphemous secret. And if someone discovers it, not even a surveyor (first class) would be able to locate Pedius' corpse...